SSB85 TRX - compact ham radio transceiver

This project is in early development stage and there is no good documentation. Heavily work in progress, making prototypes etc. Please, do not try building this project right now.
Everything on this page is a subject to change!
This transceiver is an idea sparkled by SSB6.1 kit. It has relatively simple schematic and easy in tune. But it was flawed by several things - it wasn't power efficient and not that compact. Also it was missing 160M band. I wanted to take it to a next level to be able to carry the rig in a backpack and use a power bank as a backup. All that gave me initial set of constraints to work with - most popular ham radio bands, ability to work from 5V powerbank, simple schematics, affordable components.
Name SSB85 speaks for itself: 8 bands, 5 Volts minimal power supply voltage.
Ideas for the rig:

Mobile/field ready (lightweight, compact, SMD components).
Based on SSB6.1 design.
+5 V power supply (using typical power bank)
Low power consumption in RX
High SWR/Shorts tolerant
Microcontroller used to switch between frequencies
Low frequiencies filter
Friendly price
Bands: 160, 80, 40, 30, 20, 17, 15, 10 meters.
Full complete design (not bunch a of modules as many other)
Compatible with existing microphones.
QRP but powerful enough.
Easy to operate
Guided navigation (use software to switch modulation and control modes in different bands)






Click on the image to view zoom in.
Technical characteristics
Power supply, voltage
+5V USB
9..14.5V
Power consumption
RX
<200 mA
TX
< 2 A
Output power
5 W
16 W
Ham-radio bands
160, 80, 40, 30, 20, 17, 15, 10

Modulation
SSB: LSB/USB, CW, AM (RX-only)
Size
55x110x160mm
Weight
0.5kg
List of amateur bands
Band, meters
Frequency, MHz
BW,kHz
Notes
160M
1.8-2.0
200
80M
3.500-4.000
500
40M
7.000-7.300
300
30M
10.100-10.150
50
20M
14.000-14.350
350
17M
18.068-18.168
100
15M
21.000-21.450
450
10M
28.000-29.700
1700
4 boards:
1. Main board, contains RX/TX/BPF, LF amp
2. Front panel: Screen, encoder, contorols, processor
4. Amplifier, LPF, SWR Boards connnected using I2C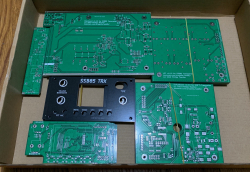 Main board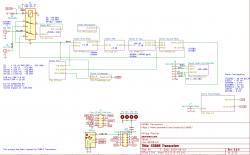 Amplifier board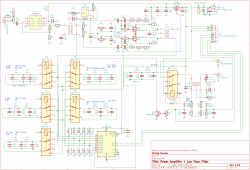 Synthesizer - NANODDS
This solution supposed to be budget friendly, so far total cost = $10.87.
Si5351A https://www.aliexpress.com/item/DC-3V-5V-CJMCU-5351-Si5351A-Si5351-I2C-Clock-Generator-Breakout-Board-Module-Signal-Generator-Clock/32881587285.html
1.8 inch screen ST7735 https://www.aliexpress.com/item/1-8-Inch-128-160-Serial-SPI-TFT-Color-LCD-Module-Display-ST7735-With-SPI-Interface/32818686437.html
Arduino Nano https://www.aliexpress.com/item/Freeshipping-Nano-3-0-controller-compatible-for-arduino-nano-CH340-USB-driver-NO-CABLE/32341832857.html Getting replaced with ATMega1284P-AU. More memory = advanced software.
The display is connected to Arduino using SPI interface and Si5351A using TWI (I²C).
Power Supply and Switches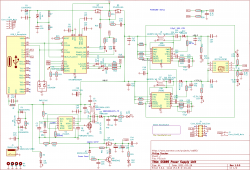 Enclosure
Buy: eBay, AliExpress

Credits
SSB 6.1 engineers, community and Nick Strong in particular for help, guides and support.
KiCAD and community for great EDA.
JetBrains for an awesome CLion IDE.
Platformio and Arduino for bootstrap code and toolchain.