Brushes downloader
This plugin allows you to download brushes from the most popular site in Russia about the Gimp.
Several years ago I wrote special service to create and organize Gimp brushes database. I made web-interface and allow users to populate this storage. Now I want to simplify deliver of collaborative work.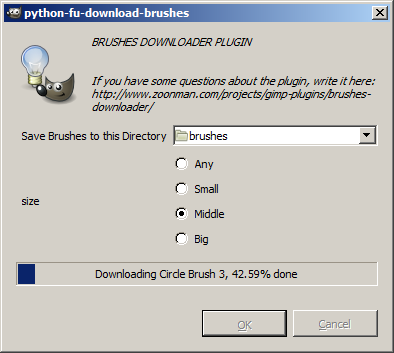 In archive you'll find brushdownloader.py, this is script, written on Python. You should to put the script into your Gimp plugins directory. In my case it was c:\Users\zoonman\.gimp-2.8\plug-ins\ in Windows 7 and /home/zoonman/.gimp-2.8/plug-ins/ in Linux.
I tested it with Pyton 2.7.5 and PyGtk-All-in-One in Windows. You should install them before using this plugin.