Melissa drugstore
In 2009, I developed and implemented the internet pharmacy "Melissa", which allows to order drugs for pickup.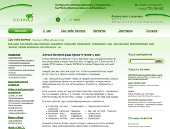 We can say that this innovation and unique design for Stavropol. Of course, for Moscow and major cities such sites exist in the network, but the service of online orders in Stavropol kind.
For those interested in the technical side of the issue, I will tell that the site is made using the classic MVC technology as a backend used by the Web server using PHP, DBE MySQL. On the client side using ajax-technology, which simplifies the user site.