Herring under fur coat
Genuine Russian recipe for herring under fur coat (shuba).
Russian recipe is much simpler and has less ingredients.
First, you have to boil beets (40+mins), carrot (~10 mins) and potato (~20 mins) until tender using different pots to avoid coloring potato. You can boil carrot with beets because carrot cooks much faster doesn't get colored by beets that much. Add a tiny pinch of salt to the water - it boosts the taste later.
Boil eggs hard. 15 minutes.
Wait until everything cools down, peel it.
Chop finely onions, carrot, potato, eggs (everything separately).
Remove bones from herring, chop it to a bean size.
Put layer of herring on the bottom of the dish, sprinkle with mayo (just 1-2 drops per square inch).
Add layer of onions, sprkinle with mayo.

Add layer of potato, sprinkle with mayo more generously because potato takes some moisture in, something close to 3-5 drops per sq inch.

Add layer of eggs, sprinkle with mayo.
Add carrots, mayo.

Grate beets onto top of the salad, so it will cover all bottom layers completely.

Cover the beets layer with mayo like it is frosting.

Put it into the fridge for couple hours to allow mayo soak into the vegetables.
Sprinkle with green onions if you have them.
Usually this salad looks like cake and gets served for sharing.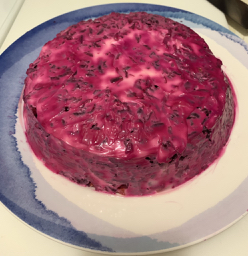 Ingredients:
pickled herring, if you can't find substitute with salmon (even a smoke one works)
250 gramm beet (1/2lbs)
1 small onion
2 eggs
3 potatoes
2 carrots
regular mayonaisse (olive or real works too)
green onion for garnish (dill and parsley works too)
Try to estimate volume of the products that all layers except onions will be equal. Onion layer supposed to be half-thick than others. Beets will need some extra because it has to cover whole dish.